Distinguished Service Award winners Best and Ray believe the arts are 'basic to the human experience'
It was a no-brainer for the Center for the Performing Arts at Penn State to honor music enthusiasts and lifelong education advocates Patricia Best and Thomas Ray with the 2017 Distinguished Service Award.
"We are pleased to join with so many others in supporting the ongoing development of opportunities for Penn State and our community to have the special access to the arts," Best says. "The question for us is not 'why invest in the arts' but 'how could we not?'"
Best has seen what a quality education does for arts appreciation. She worked for the State College Area School District for more than thirty years before retiring in 2009 after a decade as superintendent. She can point to links between an artful experience and one's proclivity toward reading, math, thinking, and social skills—and even the motivation to learn.
The arts "are uniquely positioned to both educate and entertain, to celebrate cultural differences and illuminate similarities, to move us to tears or provoke laughter, to be of intrinsic value to both the artist and the audience, to touch our lives in meaningful ways from infancy through old age," Best says. "The arts are part of foundational knowledge, basic to the human experience."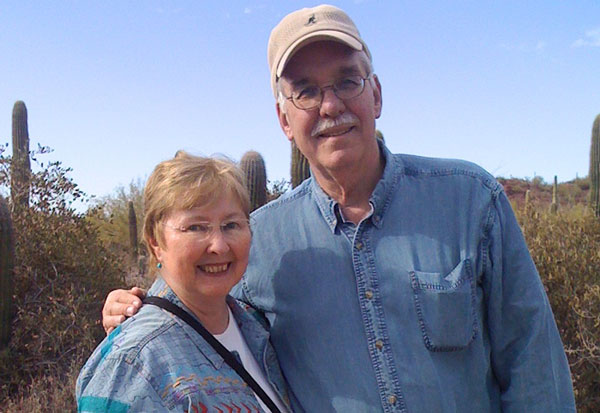 'We wanted to give back'
When they met three decades ago, Best and Ray quickly realized their mutual affection for music and theatre. That appreciation eventually led them to become Center for the Performing Arts members at the Leadership Circle and Jazz Train levels. As a way to reflect their fondness for jazz, Best and Ray have sponsored performances by Maria Schneider Orchestra and Bria Skonberg Quintet. This season, the couple is sponsoring a concert by jazz vocalist Cécile McLorin Salvant.
"Patricia and Tom are exemplary patrons, donors, and advocates for the performing arts," says George Trudeau, Center for the Performing Arts director. "They attend many performances each season and often bring friends to share with them the joy of live performances."
Best has lent her time and expertise to a variety of nonprofit organizations in Centre County.
Ray worked at Raytheon and retired in 2007 after more than thirty-nine years of service.
They travel extensively and have adopted a culture of learning via live music, theatre, and dance while on the road. They've taken tango lessons in Buenos Aires, Argentina; enrolled in a week of seminars and performances with Wynton Marsalis and the Jazz at Lincoln Center Orchestra at Chautauqua Institution in New York; and witnessed some of the world's leading vocalists at La Scala opera house in Milan, Italy. They also return annually to New Orleans to hear the region's notable jazz, Cajun, and zydeco musicians.
Ray and Best have racked up plenty of frequent-flier miles. But they are equally impressed with the artful offerings in Nittany Valley and want to support the Center for the Performing Arts mission to make the arts available to everyone.
"Each season of performances was something to which we looked forward," she says. "We have also enjoyed challenging ourselves by attending other offerings outside our usual traditional experiences."
After Best retired, she says she was able to play a more active role in supporting the Center for the Performing Arts by serving on its Community Advisory Council. There, she learned more about the needs and challenges "of providing the level and diversity of opportunities we enjoy."
"Tom and I have derived so much enjoyment over the years that we wanted to give back in another way" by becoming sponsors, she says.
Opening eyes to the world
In a 2009 Centre Daily Times interview, Best said, "You should never lose sight of the joy and wonder of childhood, and what young people can teach us, and how seeing things through their eyes often helps us to explain the world. …"
Perhaps children can teach the adults something. Best recalls memories from her travels with Ray to schools in Peru, South Africa, Namibia, and Ecuador where children proudly introduced the couple to their respective cultures.
"Music has served as a medium to welcome us as guests in these schools, to provide a glimpse into other cultures, and to offer a gift of shared joy," she says.
That could be a way "of how we can benefit from engaging with the many kinds of experiences available to us," Best says, "especially the part about seeing things through their eyes helps us to explain the world. All forms of artistic expression ask that we open our eyes to different ways of seeing the world."
Heather Longley is a communications specialist at the Center for the Performing Arts.
Patricia Best's service to Centre County
Leadership Centre County president, 1999–2000; board, 1995–2004
Chamber of Business and Industry of Centre County chairwoman, 2006–2008; board, 2001-2009
Central Pennsylvania Festival of the Arts board member, 2002–2008
Penn State College of Education Alumni Society board president, 2012–2014; board, 2002–2015
Penn State Renaissance Award recipient, 2009
Center for the Performing Arts Community Advisory Council member, 2008–2014
Mount Nittany Health System Board vice chairwoman, 2013–present; board, 2011–present
Children's Advocacy Center of Centre County board member, 2013–present
Discovery Space Children's Science Museum board member, 2010–present