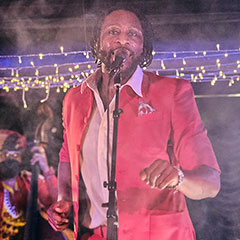 Inside the Music
5:00 pm Tuesday, September 14, 2021
3 Dots Downtown
corner of Beaver Avenue and Pugh Street, State College
FREE and open to the public *
Join Harlem-based roots band Mwenso and The Shakes for a Tuesdays on the Terrace performance. Inside the Music is an acoustic experience that brings you into the music while showcasing individual members of the band, each a stellar musician. Expore the history of Black music traditions while feeling the music down to your soul.
Tuesdays on the Terrace runs from 5–8 p.m. Mwenso and The Shakes is scheduled to perform in the third hour.
The evening will also include a powerful spoken-word presentation by community elder, artist, and activist Charles Dumas.
Cocktails and other refreshments will be available.
3 Dots Downtown hosts the three-hour event.
* Guests are required to sign in and verify they are fully vaccinated against COVID-19. Masks are also required.