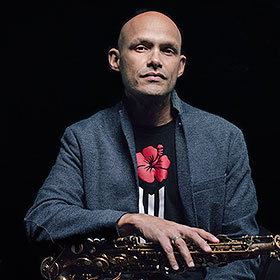 Miguel Zenón
Identities are Changeable
5:30 pm Tuesday, October 11, 2022
FREE but requires registration
This event is FREE, but you must register in advance to attend.
Complete the registration form.
Presented by the Center for the Performing Arts in collaboration with the Penn State Hispanic Heritage Month Committee
Miguel Zenón will discuss his recent project, Identities are Changeable, which was inspired by the idea of national identity, specifically as manifested in Puerto Rican communities in the New York City area. Zenón conducted a series of interviews with various individuals, all of Puerto Rican descent but born and raised in or around New York City. Then he wrote music based on some of the themes that developed during the conversations — themes such as home, language, tradition, and lineage. He then interlaced video and audio from the interviews within the music. During the one-hour event, Zenón will play video and audio from the project, breaking them down both musically and conceptually. 
A moderated question-and-answer session with Zenón will follow the presentation.