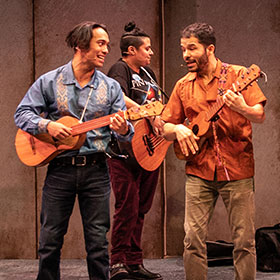 Community Fandango
Fandango de la Comunidad
6:00 pm Tuesday, September 28, 2021
Dr. Martin Luther King Jr. Plaza
S. Fraser Street,
between Calder Way and Beaver Avenue,
State College
FREE and open to the public
The cast and creative team of En Garde Arts' Fandango for Butterflies (and Coyotes) will lead a traditional community celebration in which attendees are invited to participate. The En Garde Arts professionals will guide participants through the steps of the Zapateado, a lively and percussive dance typically performed during Mexican fandangos. During the two-hour event, they will also share the ways in which improvised musical verses are created.
A fandango is a traditional community gathering — originating in Veracruz, Mexico — in which stories are brought to life through music and dance.
In case of inclement weather, the Community Fandango will be canceled. 
The Debra Lee Latta and Dr. Stanley E. Latta Endowment provides support for the Community Fandango.