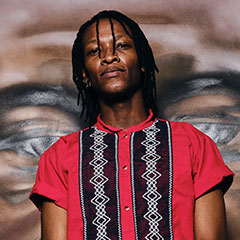 Blackness and Queerness in Diasporic Communities *
6:30 pm Wednesday, September 15, 2021
FREE and open to the public
Mwenso and The Shakes artists Michael Mwenso, born in Sierra Leone, and Vuyo Sotashe, a native of South Africa, will discuss how Black cultural icons have helped them negotiate their LGBTQ+ identities while living in the United States. The informal one-hour conversation will include discussion of their musical influences and Black queer artists. 
The event is presented in partnership with the Penn State Center for Sexual and Gender Diversity.
Contact Center for the Performing Arts Student Engagement Manager Hope Falk at hrf5014@psu.edu for more information.
* Formerly titled Coming Out in America